SURVIVORS of the December 1 invasion of Ayakoromor community in Burutu Local Government Area of Delta State by the Joint Task Force, JTF, on the Niger-Delta, code-named Operation Restore Hope, yesterday, gave chilling details of how they escaped death, their kinsmen killed and homes razed.
They also narrated how soldiers carried out mass burial of the slain villagers. The claims were, however, denied by the commander of the task force, Major-General Charles Omoregie, in a chat with newsmen, in Warri.
Omoregie denied that the task-force carried out mass burial of Ayokoromor villagers on Thursday, the second day of the renewed offensive, saying soldiers only returned fire when renegade militants in the community opened fire at them, as they approached the town, adding that if five or six persons were killed, they must be among those that fired at the troops.
JTF denies villagers' claims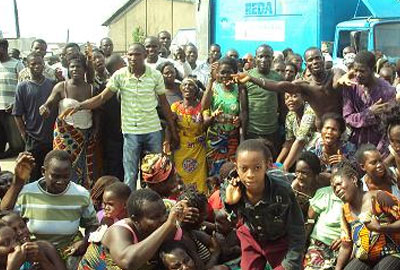 Displaced Ayakoromor villagers
The task-force boss maintained that the target was the militant camps operated by John Togo in the community and not the villagers. According to him, the few houses burnt were those situated under PHCN tension wire.
Meanwhile, hundreds of Ayokoromor people, displaced as  a result of the attack, are scattered all over Warri, Ogbe-Ijoh and Ughelli, where they are living as refugees, but some of them were said to have returned to the community by the JTF, which provided relief materials and medicare for some of them.
The acting governor of Delta State, Prince Sam Obi, sent a government delegation, led by the Permanent Secretary, Governor's Office, Warri, Mr. Patrick Origho, to the Ogbe-Ijoh camp of the displaced persons, weekend, to sympathise with the victims. It was learned that government would begin distribution of relief materials for the victims from tomorrow.
The survivors said the JTF boss was lying, insisting that the soldiers deliberately opened fire on them and not militants, as John Togo's camp was three miles away from the community.
A civil servant, Mr. Anthony Dilayei Kokone, who was in Ayakoromor on December 1 when the soldiers struck, said the community chairman, Mr. D.C. Oguguru, got information that JTF was coming to Ayakoromor area with gunboats and he called the villagers to inform them, saying they should lie down in their homes and relax, since the community leaders had been assured that the task force was searching for Togo, and not the people.
"But, surprisingly, the JTF sprayed bullets on us. Children, parents and others who were asked by the community chairman to remain in their homes had to run into the bush when the bombardment became too much.
"First, we heard gunshots, then, two jet fighters came from Warri side and were shelling the town. Later, more than 18 gun boats coming from Warri side started shooting at the community from about 25 miles.
"I and my family, father and my children ran to the residence of the Reverend Father of the Catholic Church. That is  where we slept. The soldiers did not bomb his house and I personally saw the corpses of Pastor Tinuse Gbarakpa of the Assemblies of God Church, Onitsha Kitua and Kitua who were killed by the bombing of  December 1", he said.
According to the eye-witness, the leader of the soldiers that carried out the invasion announced in English that they would return the next day and if those that escaped to the bush liked, they should remain in the bush, while some God-fearing soldiers later told the villagers to run for their dear lives.
"They returned to Okwagbe between 6p.m. and 7p.m. and I and seven members of my family entered canoes to escape  to Gbekebor. Over 1,000 persons fled that night", he said.
"No soldier will say that nobody was killed at Ayakoromor because they are carrying out mass burial of those killed in front of the Customary Court", Kokone added.
Invading gunboats
A teacher, Mrs. Niyainta Engoere, told Sunday Vanguard, "My son called me at about 12p.m. on that day that 15-20 gunboats were coming to Ayakoromor and that we should run. Before we knew it, the soldiers were already in the community. Though I called some friends, the community chairman told the entire village that his information was that the soldiers were not coming for us, so we should stay in our homes and sleep so as not to allow stray bullets to harm us.
"But the JTF had a different agenda. One of the gunboats came very close to the houses and started to shell bullets. My sister-in-–law, Mrs. Julie Matthew's house was burnt, a PHCN transformer was burnt down, they were shooting everywhere and when they came down, my house was one of the houses they broke into.
"Many people had run to my house for safety and they threatened to kill us. We begged them not to kill us or burn down our houses. All of us were ordered to go out. As we came out, I saw them burning my father in-law's house. His name is Sokorofo Perekeme, they also burnt down part of my church, Christian United Church of Zion. My own house was also burnt with all my certificates.
"From there, we were all herded to the centre of the town, where we were all asked to sit on the ground. In our presence, more than 30 buildings and provisions stores were set ablaze. The house of a navy captain who died two years ago was burnt.
His father, Nelson Demebide, was inside when it was set ablaze", she said.
Among other buildings burnt, according to her, were those belonging to Peter, Maria and Samco by the waterside, while at about 7p.m., the leader of the invading soldiers ordered them to leave the community, adding, "I cannot count the so many souls that were lying down when they left, but there were over 40 corpses".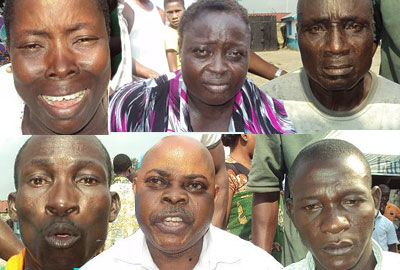 How we escaped death- survivors
She said her own house was razed and she left in a local boat to Gbekebor  with some survivors. Mrs. Engoere said the shooting continued on December 2 and even in Gbekebor, when they ran to for safety, they were still gripped with fear, and so, they managed to escape again to Warri.
Mass burial
"On December 2, the soldiers carried out mass burial in the front of the Customary Court. They were burying corpses, I saw them. I am from the village and know where to hide. I lost two persons. They cannot say they did not kill people. Who killed Onitsha Kitua and Bonaventure, who was doing a master's degree programme?
A retired headmaster, Mr. Yeigagha,  was also shot," she added.
A  housewife, Mrs. Philomena Anthony, whose husband, Mr. Anthony Oyaye, was still missing, said they were living their normal life in the community when the soldiers came to slaughter them on December 1. She said she ran with her one-week-old baby and a daughter into the bush and does not know the whereabouts of her other children as at yesterday.
The urban chairman of Ayokoromor community, Chief Albert Doutimiyebo, said two corpses were brought to Warri and the oldest man of Ayokoromor community was hospitalized as a result of the incident.
According to him,  the task force and SSS were threatening to arrest him and members of his executive for telling the world that Ayakoromore people were massacred, saying, "This whole thing is strange because John Togo camp  is not in Ayokoromor.
The community is now abandoned; we are 15,000 in population by the 2006 census figure".
Secretary of the community, Comrade Joseph Oweike, who painted the same picture of the invasion on December I by soldiers with aircraft  and gunboats, said he had not seen his wife and children since the incident.
Corpses, arson
He gave the names of those he knew were killed as Onitsha Kitua, an assistant headmaster of Ombuatuowei Primary School, New Town, Ayakoromor, Tolo Egbe, Pastor Timesen, Terry, a headmaster, Mr. Kalama Bonaventure, adding that he personally saw their corpses and when he returned to his house later, the soldiers had burnt it.
Another victim, Jimmy Aye, who was shot at the back, showed his wound to Sunday Vanguard and appealed to government for protection, saying they were not militants.
Kelvin Ebiyeibo, also a victim, said his mother, Mrs. Eyinime Ebiyeibo, was killed while his father's home in the community was burnt down by soldiers. Besides, the residence of Oleh Abi, a sister to his father, Mr. Sylvester Ebiyeibo, was  razed.
James Eniekebi, who was lucky to escape  to Warri with 120 children and 17 women, said the residence of his father, Mr. Bagabkumor Enibekebe, was burnt.
No civilian was killed by JTF – Omoregie
However,  Omoregie said yesterday that he would not say that nobody was killed or was not killed in the operation by his men, adding, "Some people may be hurt but not civilians. It is the militants who ambushed soldiers and there was nothing like massacre".
The JTF commander said the task force sent some of the injured villagers for treatment and bought them relief materials, including mattresses, toiletries and food items.
JTF disturbed by false claim– Antigha
Coordinator of the media campaign of the task force,  Lt. Col. Timothy Antigha, in a statement, yesterday, also said, "Operation Restore Hope is deeply concerned by the mischief and deliberate attempt made to discredit it, following its recent operation to clear criminal gangs which hitherto held communities and oil companies in the Niger Delta to ransom".
In demonstration of its good faith, the JTF at the instance of the president of the Ijaw Youth Council, Mr. Miabiye Kuromiema, facilitated the visit of the IYC president and members of his entourage to Ayakoromo  this evening to see things for themselves".
The IYC president, who was seen at the JTF barracks in Effurun, yesterday, told Sunday Vanguard he would speak after carrying out his investigations.But, the Niger_Delta Liberation Force, NDLF, in a statement by its spokesman, "Captain" Mark Anthony, asked, "Why must JTF soldiers take away the corpses of innocent little children, young boys and girls men and women and aged people they killed by aerial bombings at Ayakoromor military attack? Where is JTF taking the corpses of the innocent souls to after bringing untimely death to them?"
– vanguard