The current edition of the Premier League continues to be highly unpredictable. After West Bromwich Albion and Newcastle won at Arsenal, Blackpool triumphed at Anfield and Manchester United dropped a two-goal against the Baggies at home, Sunderland stunned Chelsea 3-0 at Stamford Bridge.
Here are five things we learned from round 13, which turned out to be great for Arsenal.
1. Chelsea remains vulnerable
Chelsea isn't as good as some believe. Let's face it, the Blues largely lead because Manchester United is underachieving, Manchester City isn't up to par — wait until next season or the one thereafter — and Arsenal continues to be, frustratingly, Arsenal.
Chelsea lost at Manchester City and Liverpool, got outplayed by Arsenal and was fortunate to snare all three points versus Blackburn and Wolves.
And when the first choice 11 isn't in the lineup, Chelsea can lose to mediocre sides at home. The Black Cats, mostly inept on the road, ended an 11-match losing streak against Chelsea. With inspirational skipper John Terry a late scratch due to injury, midfield goal machine Frank Lampard taking longer than expected to regain fitness and midfielder Michael Essien, perhaps Chelsea's most important player, suspended, Sunderland seized the initiative, starting two strikers.
Chelsea lacked spark in the center of the pitch, and Sunderland's combative midfielder, Lee Cattermole, completely outshone counterpart John Obi Mikel. Mikel hasn't lived up to the hype since his controversial transfer to Chelsea four years ago. The Blues need Terry, Essien and Lampard back.
The Gunners, who overcame Everton 2-1 in a tough away fixture, trail Chelsea by two points.
2. The Italian is cracking
What was Manchester City manager Roberto Mancini thinking? Playing at home against Birmingham and struggling at 0-0, Mancini subbed striker Carlos Tevez, City's most viable threat, in favor of holding midfielder, Gareth Barry. When the game ended scoreless, Mancini defended his move by saying the Argentinean dynamo had been carrying an injury for a few weeks.
[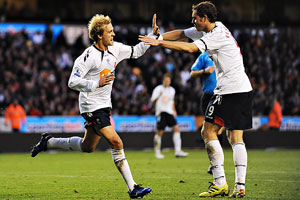 AP ImagesStuart Holden netted his first Premier League goal this weekend.
Maybe. But Tevez contested 83 minutes, so why not keep him on for the remaining seven? He also looked like the most likely City player to find the back of the net. Mancini was similarly defensive in his tactics, also as the home team, in last Wednesday's drab Manchester derby.
That's one win in City's past five Premier League matches. If City loses, or even draws, at tricky Fulham this weekend, Mancini and his dapper little scarf might be headed back to Italy.
3. Never discount United
One thing Mancini hasn't been able to do is build chemistry. Emmanuel Adebayor, not averse to being a troublemaker, and Vincent Kompany quarreled in a defeat to Wolves. James Milner, the consummate pro, and Yaya Toure had a bust up in the midst of a crushing reverse to Arsenal.
Despite the distraction caused by Wayne Rooney's silly behavior last month, there's seemingly nothing wrong with the spirit at Manchester United. Alex Ferguson's disdain for losing shines through.
Looking down and out, trailing 2-0 with 10 minutes remaining, United rallied for a 2-2 draw to make it nine wins and seven ties in its last 16 Premier League games at Villa Park. By the end of it, Villa was lucky to hang on.
Yes, United isn't in top gear. However, the Red Devils extended their unbeaten sequence to 18 in the league. When Rooney returns and hits form and winger Antonio Valencia comes back from injury, cue the charge.
4. Liverpool needs serious help
So much for Liverpool's revival.
The Reds' disappointing 1-1 draw with generally dreadful Wigan last Wednesday was nothing compared to Saturday. Liverpool fell 2-0 at Stoke in a score that flattered the visitor. The Potters dominated from start to finish, playing high tempo and completely bossing the midfield. The Reds, still missing Xabi Alonso, had no creativity.
Whatever happens for the rest of the season, the Reds have virtually no chance finishing in the top four. Europa League, here they come again. If they're lucky.
5. Bolton can play
Hand it to classy Bolton boss Owen Coyle. He took a gamble by changing Bolton's route one style, opting for more attractive football. It's paying off.
Bolton sits fifth, three points off a Champions League spot, following a 3-2 win at unlucky Wolves. Swedish striker Johan Elmander, considered a $16 million flop before this season, can't stop bulging the net. He scored the goal of the weekend, showing some fancy footwork before sliding the ball to the far post.
American Stuart Holden, impressing in midfield and on set pieces, netted his first goal in English soccer, completing an Arsenal-like passage of play.
There's still two thirds of the season to play. But right now, Bolton looks capable of challenging for a fourth-place finish if Coyle can keep his men playing like this. At the very least, his club is going to be a tough out for any club above Bolton. In the meantime, Bolton have a number of winnable games coming up, against Newcastle and Blackpool before it faces Man City in an intriguing matchup on Dec. 4.